• Friday, April 11th, 2008
At a directors' meeting on April 11, 2008, Joel C. Turner was elected President to replace Jim McCormack, who resigned.
More directors are
needed. Interested parties should contact Joel C. Turner.
Possible sub-committees include Roads, Beautification, Security, and Events. Interested parties should contact Joel C. Turner.
Since April 2008, Hidus Harrill
Landscaping has regularly mowed the grass along the road shoulders. The crew consists of eight men using four tractor-mowers and several weed eaters. The job takes about half a day. Their next project enhanced the appearance around the entrance gate and mailboxes with added mulch, more trees, and more shrubs.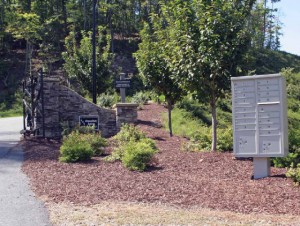 Homeowners can receive mail at The Summit. Contact Joel Turner to pick a box number and receive your keys. There is no charge.
Outbound mail is also picked up daily by the mail carrier.
The newsletter will include latest news, interesting facts, and upcoming events.
We are always looking for new ideas and topics for the newsletter. If you have an idea or would be interested in writing an article, please
let us
know.